Master in Visual Effects and Animation in the USA
Studying a Master's degree in Animation and Visual Effects in the US can provide you with the opportunity to work in 2D and stop-motion animation, 3D animation, 3D modeling or visual effects, with a focus on telling stories by demonstrating technical skills and stimulating emotional responses. . You will gain skills that can then be applied in the field of digital technology.
Animation is a competitive field, but with hands-on experience, you can have many opportunities to develop your artistic skills and build your network. You could also consider offering to help create promotional videos or animations for a charity or non-profit organization's website.
You can also learn visual effects in the field of animation, audiovisual content and digital content. Visual effects are used to create an image with a picturesque world and to make the audience feel alive in the image. It is used in military, entertainment, sports, medical and various fields to create a better experience. It is considered a real boom for the film and television industry because it gives the narrator the vision to tell his story to the audience in a better way.
What is the best degree for animation and visual effects?
It depends on your career goals and current skills. To determine which degree matches your career goals, it is important to understand how each qualification differs.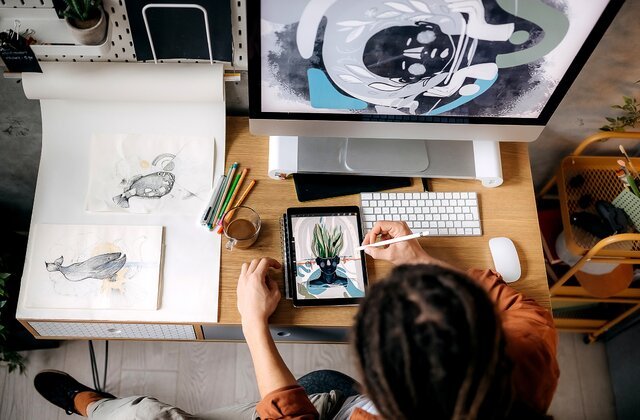 If you want to apply to a graduate program in the USA, common requirements will include your admission essay (also known as a statement of purpose or personal statement), a copy of your transcripts from previous years of study, letters of recommendation and language tests.
Here are some of the best degrees you may want to apply for in the USA:
| Study programme | University/college | The study period | Tuition fees (2022) |
| --- | --- | --- | --- |
| Graduate Certificate in Interactive Media | Sacred Heart University | One semester | US $12,600 |
| Master of Arts in Arts – Visual Arts – Animation | California State University | 3 semesters | US $21,456 |
| The one-year animation and sound effects training program | New York Film Academy | Two semesters | US $41,148 |
| Master of Arts in Animation and Visual Effects – Visual Effects | Academy of Art University | 4 semesters | US $42,876 |
| Master of Arts in Animation | DePaul University | 4 semesters | US $45,864 |
| Master of Fine Arts in Cinema Arts – Digital Animation and Visual Effects | City University of New York – Brooklyn College | 6 semesters | US $56,430 |
Please note that the above-mentioned tuition fees are indicative only. Speak to an IDP Education advisor for a more accurate quote.
Check out the entire list of study programs here .
What can you do with a master's degree in animation?
Obtaining a master's degree in animation and visual effects will not only improve your income, but it will also provide you with personal and professional skills that will contribute to your development in no time.
It is an opportunity to distinguish yourself from your peers who may have the same educational qualifications.
You will also learn to work well both individually and collaboratively, and develop useful transferable skills, such as:
time management
Attention to details
creativity
solving problems
Interpersonal and teamwork skills.
You can work for one of the large commercial studios such as Pixar, Disney, DreamWorks and Aardman Animations or for a studio that produces films or television projects. You may also consider working alone or on a freelance basis.
Also, animators may find employment in the computer games industry, either at large game developers (Sony, EA, Ubisoft) or at smaller independent studios, and other fields, such as software publishing, advertising, marketing, and data visualization.
Where are most animation jobs found?
For great salaries and job opportunities, check out the following list of the best US cities for animation work:
| | |
| --- | --- |
| Workplaces in New York | You may find work at: Ace & Son Moving Picture Co., Viacom, Buzzco Associates, Nickelodeon, and LOOP Filmworks |
| Workplaces in Los Angeles | You may find work at: Disney, MGM, Sony Pictures Imageworks, Hasbro, DreamWorks, PorchLight Entertainment, ABC Family/Walt Disney, 20th Century Fox Animation, and Universal Cartoon Studios |
| Workplaces in Chicago | You may find work at: WB Games, the Warner Bros Entertainment Group, Treehouse Studios, Digital Kitchen, and Calabash Animation |
| Workplaces in San Francisco | You may find work at: Lucasfilm, Dolby Laboratories, DreamWorks, and Capcom |
| Workplaces in Seattle | You may find work at: Nomadic Studio and Starfire Animation Studio |
| Workplaces in Boston | You may find work at: Global Mechanic, MuseArts; Inc, Brickyard VFX, and Calli Productions |
| Workplaces in Austin | You may find work at: 3D Magic Factory, Hack Studios, Austin 3D Visuals, and Peli Studio |
| Workplaces in Portland | You may find work at: Bent Image Lab, Deep Sky Studios, Wallyhood, and LAIKA Studios |
It is clear that the future looks bright in the field of animation and visual effects and the demand for it is constantly increasing. So, if you enjoy bringing things to life or creating characters using animation, special effects and other visuals, speak to an IDP consultant today
Take the first step towards achieving your career goals and enroll in an accredited animation program with IDP.